Non-delayable works fund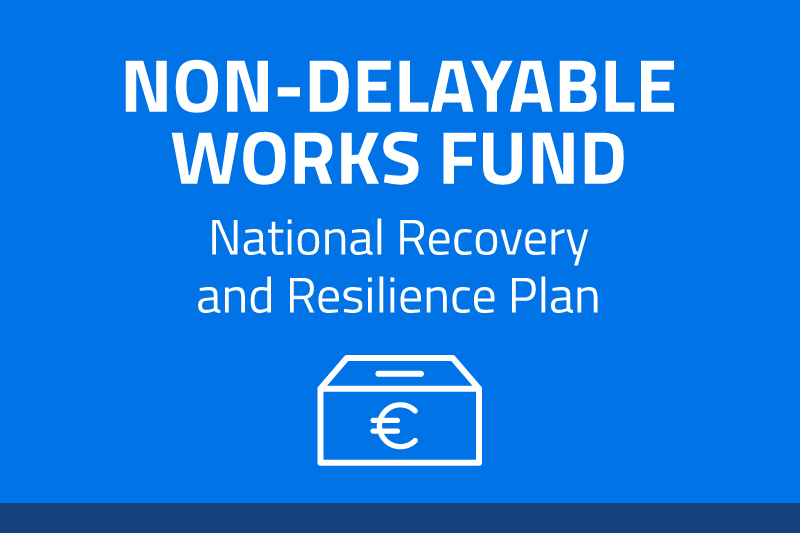 The resources of the "Fund for non-delayable works" are allocated, within the limits of the annual budget appropriations, to meet the higher costs of construction materials, fuels and energy products resulting from the updating of the regional price lists used in the procedures for awarding public works financed, in whole or in part, with the resources of the National Recovery and Resilience Plan.
Article 26, paragraph 7, of Decree-Law No. 50 of 17 May 2022, converted with amendments by Law No. 91 of 15 July 2022, setting forth 'Urgent measures regarding national energy policies, business productivity and investment attraction, as well as regarding social policies and the Ukrainian crisis', established the 'Fund for the start-up of non-deferrable works' in the estimates of the Ministry of the Economy and Finance.
II SEMESTER 2023:
1. PRE-ALLOCATION 10% II SEMESTER 2023
Paragraph 370 of Article 1 of Law No. 197/2022 envisages the following requirements for the procedure for the pre-allocation of 10 per cent of the contribution of the Fund for the start-up of non-deferrable works, second half of 2023
by 10 June 2023, the financing State Administrations shall identify, according to the data present in the information systems, the list of the local authorities eligible for the pre-allocation, complete with the unique project codes (CUP). This list is published on the institutional website of the financing State administration within the same deadline;
within the following twenty days (by 30 June 2023), the local authorities - which will go to tender in the period 1 July 2023 - 31 December 2023 - access the ReGiS IT platform in order to confirm the pre-allocation. Failure to confirm means renouncing the pre-allocation and the local authority can access the ordinary procedure;
with a decree of the Accountant General of the State, to be adopted by 15 July 2023, the list of the interventions for which the confirmation of acceptance of the pre-allocation has been found through the ReGiS IT platform is approved. This decree constitutes the title for ascertaining the resources in the budget.
In this regard, with the attached list, the local authorities, executors of the M2C4-2.1b investment of the NRRP owned by the Civil Protection Department, were identified as potential beneficiaries of the pre-allocation in the second half of 2023.
The above list excludes CUPs that are beneficiaries of previous FOI 2022 and 2023 allocations (simplified, ordinary, recovery procedure) and those that have already started the tender procedures for the awarding of works. Pursuant to Article 10, paragraph 4, of the MEF Ministerial Decree of 10 February 2023, the CUPs that are beneficiaries of the pre-allocation of the first semester of 2023 (RGS Decree No. 124/2023), if they do not start the awarding procedures by 30 June 2023, will only have access to the ordinary procedure for the second semester, which will open on 16 June.